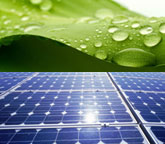 In recent years, Clean Energy industries such as solar and wind have experienced exponential growth. These industries will bring with them a substantial amount of economic and environmental benefits.

In a June 2008 report by the International Advisory Panel (IAP) on Clean Energy, commended Singapore's plan for leadership in clean energy by focusing on three key areas:

> Building R&D capabilities to drive Clean Energy applications and industry growth;

> Building a vibrant Clean Energy ecosystem with activities across the entire value chain, from research to design to manufacturing to global outreach; and

> Building strong capabilities in Clean Energy through innovative solutions and test-bedding in a tropical urban environment.

In-line with Singapore's initiation in taking huge steps forward to build a robust Clean Energy ecosystem, and to gain a headstart in knowledge and expertise, thus be better able to take advantage of global business opportunities that will open up with the accelerating adoption of Clean Energy around the world; Asiatic decided to be part of this growth.

Heeding the call for clean energy, diversifying from our existing core business, Asiatic will also now embark in the business of 'Renewable Energy' and 'Energy-savings' product. This will include design, supply & installation of Photovoltaic (PV) Solar systems; as well as supply and installation of heat pump for boiler system.