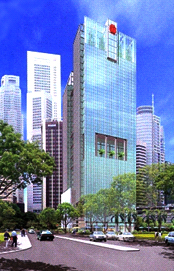 Located at Number 1 Marina Boulevard, Raffles Place, is the 32-storey office tower located on the waterfront of Singapore's New Downtown. Also known as the 'NTUC Centre', this glass-façade building is linked directly to Raffles Place MRT station via air-conditioned underground mall.

Once again, Asiatic is proud to be the choice vendor in supplying pumps for the sanitary & sewage services of this building.

Our supply includes:

3 nos. of

DP Stainless Steel Vertical Multistage Centrifugal Pumps

, Model DPVF45-90-1 for the water transfer application.



2 nos. of

MONOFLO DIN-Master End Suction Back Pullout Centrifugal Pumps

, Model DMT50-260 for water pressure system.



9 nos. of HOMA Sewage & Drainage Submersible Pumps, Models MX's, TP's & TCM's, for the sewage ejector system, drainage sumps & fountain applications.